Here are two of the most asked for exercises in this free downloads and bonus content section.
Enjoy, compliments of Healing Catalyst!
Square Breathing Demo:
Listen to Denise's demo for her Square Breathing technique: ~ from "Off the Record" Interview, 1/17.  Voices: Denise LaBarre, Bill Best (radio host), Yvette Crosby (client)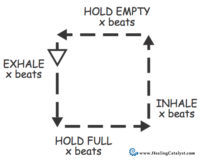 Loving Your Body EXERCISE
Like many, you may have grown up absorbing negative messages about your wonderful , amazing body. Here is a quick exercise to get you out of your head – where those negative messages may still run – and into your body.