Issues in Your Tissues Book
Listen to your body's intuitive wisdom and use it to heal yourself – from the inside, out.  Get your copy now!
About the book:
Issues in Your Tissues: Heal Body and Emotion from the Inside Out – the book you've been looking for!
Find the causes of persistent and unexplained pain.
Learn to breathe easily and fully throughout your day.
Alleviate stress and the physical problems it can cause.
Get out of your head and feel younger, more alive and relaxed in your body.
Find out what your body is telling you!
Its Stories, Cartoons, Exercise catalyze your healing.
Release stuck emotional energy that has been causing your symptoms – tension, pain, and dis-ease – and heal completely.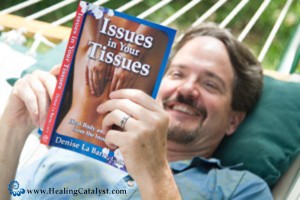 Get the healing answers you need
Issues in Your Tissues: Heal Body and Emotion from the Inside Out  by Denise LaBarre is a book about what your body has been expressing through stress, pain and disease.
Read stories, shared wisdom and exercises that help you integrate and realign physical, emotional, mental and spiritual parts of yourself.
Explore emotion as a key factor in pain, illness and dis-ease.
Learn what you can do to alleviate the symptoms you experience.
Our bodies are always communicating to us. But in the course of growing up we lost the habit of listening and understanding what it was saying. Issues in Your Tissues explains how you can reconnect to the internal communication system you were born with and heal what ails you.  You already have what you need to understand the physical symptoms of your emotional distress. You can heal small problems before they become big ones.  LaBarre's insights help you unravel your "issues" layer by layer for deep and lasting results.
In her book, LaBarre tells stories from over thirty years of her own healing work to illustrate her intuitive approach to bodywork. Readers feel as if they're sitting at the feet of an old healer telling stories.  The stories say, "This is what it can look like. You can heal this way, too." Readers make connections between the tension in their bodies and the emotional issues that may underlie them. This shows them how they might also open up to shed their energetic "armor" and gives them indirect permission to do so. The results can be amazing. Professional massage therapists will appreciate the candid recounting of sessions as a touchstone for their own work and as confirmation that we're finally ready to discuss intuitive bodywork openly.
The point is to experience it directly, in your own body. The stories and exercises in the book guide you inward to feel the benefits for yourself.