Healing Catalyst Press
           Empowering Your Greatest Healing
We love making our books available in unusual ways.  Currently our books are sold in the waiting rooms of dental, medical, and acupuncture offices; yoga studios; and health food stores.  Also sold by Amazon.com and other big retailers. You can set up easy, direct delivery so you can share this great resource and make money in the process! Contact us to set it up.
For Booksellers, Retailers, and Marketers
Our books make great Waiting Room reading…
Healing Catalyst Press – Call 808. 575. 2244 Hawaiian time (HST) for wholesaling, ordering, and publishing information.
SAN available on request.  Call the number above or use our Contact Us form to send an e-mail.
Sell the book Issues in Your Tissues!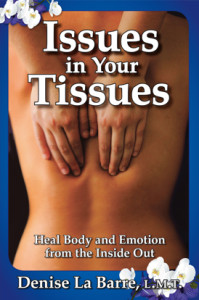 Issues in Your Tissues: Heal Body and Emotion from the Inside Out  by Denise LaBarre
Print copy  –  ISBN:  978-0-982477-0-5
eBook        –  ISBN:  978-0-982477-1-2
Book Sellers, Healing Offices, Yoga Studios – Make Issues in Your Tissues available to customers, clients and patients.  Healing Catalyst Press offers creative placement for these great healing resources.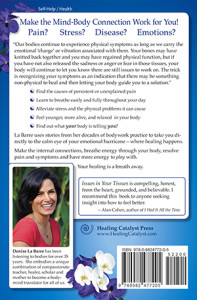 Issues in Your Tissues is not yet available as an audio book. Thank you for your inquiries. We are looking to produce the book in audio format and will announce it on all of our outlets when it comes out.