Here's what people are saying about Issues in Your Tissues        Testimonials from Readers
Issues in Your Tissues answers these and many more questions, plus gives you insight and tools to help you make healing connections in your own body.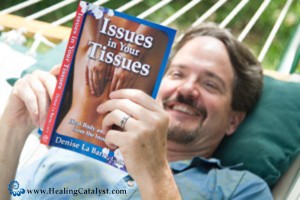 There is something so pure, true, and sincere about your work.  My time with you was  miraculous and life-changing.  I don't know if I ever before felt such pure emotion without holding back anything.   You're really fun to work with and you really do live the world through child's eyes. I like that you helped me remember that for myself.
Everyday I have new insights. When I left Alaska to come to Maui for my sessions, I weighed 178-180.  Today I weighed 162 lbs and I'm still losing.  That seems like a lot of weight to loose in 2 weeks but I realized today that was emotional weight. The shift happened when I released my anger and fear during my second session.  I know it because not only did I feel stronger and powerful, I felt lighter.  The burden was lifted.  It was like my fat was storing the emotions. Now that it can, my body is quickly letting it go.
The coolest thing is that I'm sleeping with no sleeping meds – for the first time in 20 years. I feel great every morning. I know that by the end of this summer by body will be back to where it was before my knee injury, and even stronger because I am now whole again. My heart is so happy. I feel fantastic, whole, and very powerful.  Thank you for what you do.                        ~  Sue V, RN, BSN, Anchorage AK
"Hurry up and write your next book. I'm ready for more stories and more healing!"         ~ L. Peña, Property Manager, Lahaina, HI
More Issues in Your Tissues Testimonials               Get Your Copy Today!

Your book is so helpful
Denise, your book is so helpful.  I was totally one of the people who couldn't breathe deeply at first, even when I tried. I am glad you talked about that in your book and I'm now beginning to get in full breaths.  I can't tell you what a Godsend your book is to me!
~ K. Gordon, Artist, NYC
Reader values the Exercises in Issues in Your Tissues
LISTEN                             ~ Yvette Crosby, Interior Designer, HI
Alan Cohen says, "Honest, from the heart, grounded and believable."
Issues in Your Tissues is compelling, honest, from the heart, grounded and believable.  I recommend this book to anyone seeking insight into how to feel better.
~  Alan Cohen, author of I Had It All the Time
The Next Wave of Healing
In the way that Scott Peck's The Road Less Traveled  initiated a breakthrough for popular understanding of psychology, Denise LaBarre's, Issues in Your Tissues brings home the emotional and physical insights we need for the next wave of healing.  Fun and easy to take in, this book simply rocks!                 ~ Chloe Davis, Choreographer, Memphis, TN
I Find Myself Crying and Laughing Out Loud
I am cheering from afar for Issues in Your Tissues, which is an absolutely wonderful book.  Your style is so fresh and direct that each time I read another piece, I can hear your voice.  The images you create and the situations you describe have so deep a texture of authenticity that there are times when I find myself crying and other times when I'm laughing out loud.  I can't wait to get my massage therapist – daughter's reaction when she comes home in a couple of weeks!

The energy of healing and recovery that you generate is palpable, and has brought me much joy, too.  Bless you!
~ B. Aronowitz, English Teacher, Salinas, CA
A Brilliant Read from a Brilliant Intuitive
I want to congratulate Denise LaBarre on her most phenomenally written book, "Issues in Your Tissues."  What a brilliant read and what a brilliantly clever intuitive person.
I have to admit, I have never had such a wonderful experience when undergoing a massage routine with a truly professional LMT as I did with Denise LaBarre.  I couldn't recommend her highly enough to prospective clients, and I am more than happy to reference her from Australia at anytime to anyone.
~ Fiona Telford, Sydney Australia
Ah-ha moments in South Africa
I just finished reading your book.  What a delight!  I was sad when I reached the end – I wanted to read more!  The stories brought the book to life.  There were many ah-ha moments – some for me, some for my clients.
~ Inga Jackson, Cape Town, South Africa
"Drinking it up" in Italy
I have been reading it at night before sleep and I have founded it so easy and smooth and so rich of "how to" without being repetitive or uninteresting.  The stories of people are really good, I am drinking it up…. hearing your voice as the narrator.
~  Francesca LaRue, Artist, Italy
Appreciation from a Horse Whisperer
Denise helped me to hear some things my body has been trying to tell me for a long time.
~ Franklin Levinson, Horse Whisperer, Aspen, CO
Journalist Likes the Writing
I really like your book, and it really helps me understand what's happening in my body – and from a writer's standpoint, it's very well written.
~ Sarah Ruppenthal, Journalist
Doctor Approved
This information is elementary – and yet we need to hear it, again and again.
~ Joel Friedman, M.D, Kula, Hawaii
God-given Gift
Your book is wonderful.  The first story I opened is the one of the lady who was abused as a child.  The concepts you used to help her reminds me of the ones I need to remember.  So simple, so important, they are the basics of our being.
You have a great mission field for which you are willing to use your God-given gift.  Thank you for your willingness to help others!
~ Linda Brown, Lubbock, Texas
This Book is A Work of Art!
Your book is a work of art!  I've learned so much from it. Thank you for writing such a super book.
           ~Sue Nell, Artist
Massage Therapist Approved
I enjoyed the journey of reading Issues in Your Tissues.  LaBarre is perceptive.  We all have this potential to heal ourselves using intuition as the vehicle.  I am glad to see this information so well presented.
~ Rita Okeane, Principal Massage Therapist, Four Seasons Hotel, Wailea
Praise from the Mid-West
An interesting read.  I enjoyed learning about massage from the therapist's perspective.  Our bodies really do have the answers we need and LaBarre shows us how to access them.                             ~ Margaret Halava, Retired Human Resource Director, Okemos, MI
Issues in Your Tissues Should be a Best Seller!
I am now half way through your book.  Great work and I love it!  Thanks again.  Your book should be a best seller.  I'm going to recommend it to everyone.
~ Robert King, Texas
Loving Your Book
I am loving your book.  You are a gifted writer and intuitive person.  I found the story about you "asking" for your next client and the African American woman giving you knowledge (without her realizing it) incredible.  Also, the stories mixed with advice is similar to how I put my book together.  It is wonderful.  One day I will book a massage with you and I will be so blessed!
~ Denelee Brugman, Author of Happily Wed, Happily Fed