Congratulations!
You are aware of your body and emotions and probably do not have significant issues in your tissues. You are or could be a health practitioner or other healing professional.
However, everyone can use support in this busy life and reading Issues in Your Tissues will help you resolve any remaining issues and strengthen your self-care practice. You will probably enjoy the insights and health tips in the articles on this website.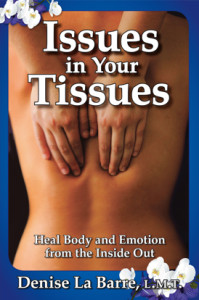 I invite you for a private session to fine-tune any remaining stuck spots. You are clearly in a position to use Issues in Your Tissues as a healing touchstone for others in your life. You will want a copy/copies on hand as a reference for yourself, clients/patients, and as a teaching tool. Get your copy now! The book also makes a great and easy-to-give gift for family, colleagues, and friends.